Should I Get a Cortisone Shot for My Foot Pain?
Nobody wants to live with foot pain more than they absolutely have to. Each day without resolution is another lost opportunity to exercise, to enjoy your favorite hobbies, and to live life on your terms.
At the Community Foot Clinic of McPherson, it's our goal to ensure that your pain subsides and your feet get back in shape as quickly as possible—and stay that way as long as possible. To that end, cortisone shots are one of the most useful tools we have in our arsenal, especially for soft tissue injuries like plantar fasciitis, tendinitis, and arthritis. It can be a fast, effective, and relatively non-invasive way to get you back on your feet.
But at the same time, it isn't a panacea, and it isn't for everyone. As with any treatment, it's important to understand the benefits, the limitations, and the risks of the procedure before deciding whether or not to get the injection.
This blog can help you with that, but remember it's no substitute for a frank conversation with your doctor.
What Are the Benefits of a Cortisone Shot?
A cortisone shot can provide a powerful anti-inflammatory and pain-relieving effect into the site of the injured tissues. The cortisone, which is a type of steroid, mimics the function of natural hormones in your body to reduce swelling, stiffness, and pain.
Most people can expect to notice symptoms improving within a couple of days, or in some cases even a couple of hours. There's an initial period of soreness to get through, but after that you should begin to feel much better.
Results can of course vary from person to person, but anywhere from 3 to 6 months of significantly reduced pain is typical. As you can imagine, this often results in dramatic improvements in mood and quality of life after you get your shot.
What Are the Limitations of a Cortisone Shot?
The most important thing to remember is that a cortisone shot is not going to do much about the underlying causes of your injury. It will just reduce or eliminate your symptoms for a period of time. If you do not take steps to address the cause, the pain will return.
For that reason, cortisone injections are rarely prescribed on their own. It will be one part of a comprehensive treatment plan, which may include components such as physical therapy, custom orthotics, or footwear or activity modifications.
What Are the Risks of a Cortisone Shot?
A single cortisone shot is typically quite safe, especially if you haven't had any other cortisone injections anytime recently. Minor, temporary side effects are common but usually not serious.
However, receiving multiple cortisone injections in a single area over a relatively short time period increases your risk of more worrisome complications, including:
Weakening in tendons
Nerve damage
Infection in joints
Thinning or deterioration in bones.
Again, these side effects are almost never observed unless multiple injections have been provided in a short period of time, but they are always possible. As a result, we can get quite strict about how many injections we will provide for your foot pain within a given year.
What About the Alternatives?
One excellent alternative to cortisone injections is laser therapy, which not only addresses symptoms but also helps accelerate the natural healing process. This is a more advanced, versatile, and overall effective procedure. It's recommended for most of the same conditions (and more), painless, and unlike cortisone shots it is completely devoid of any known side effects—minor or otherwise.
On the downside, laser therapy typically requires a treatment course of 6-10 sessions over 2-4 weeks to achieve maximum effectiveness. A cortisone shot, by contrast, only requires a single injection for 3-6 months of relief. But the fact that laser therapy is both safer and addresses the causes of pain (rather than just the symptoms) may make it the better choice in many cases.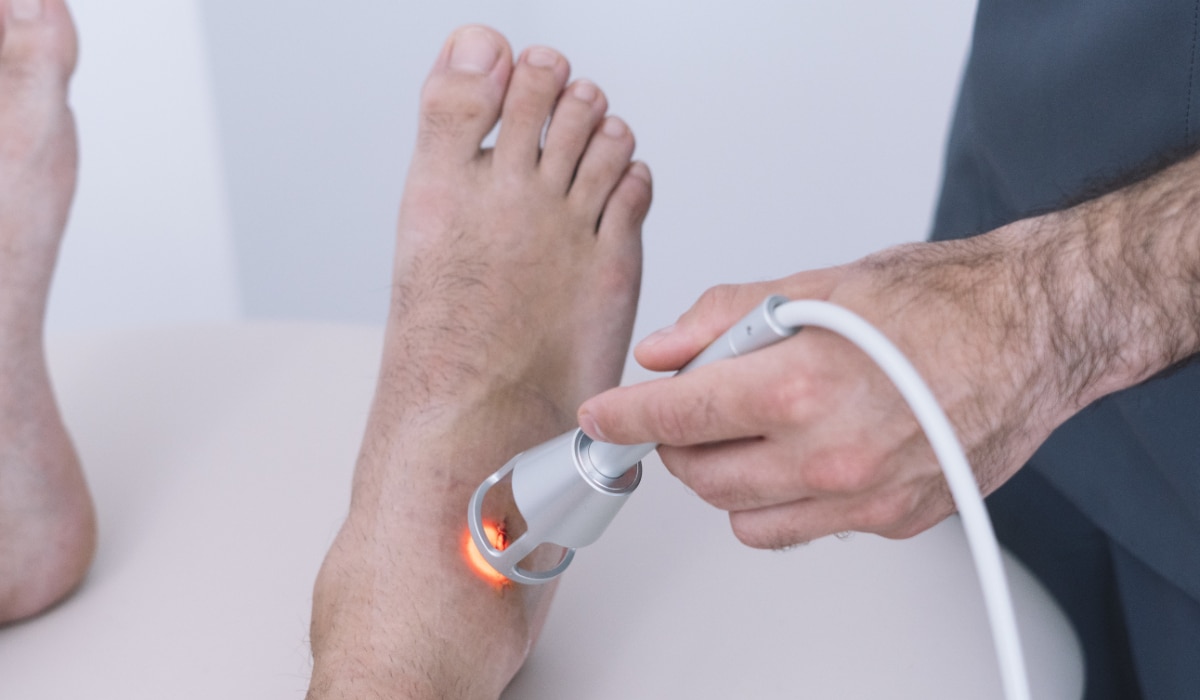 So, What's the Verdict?
At Community Foot Clinic of McPherson, our goal isn't to push you into cookie-cutter treatment protocols. It's to provide you with a variety of options, make our recommendations, and help you arrive at a decision that makes the best sense for your situation.
For many people, that might include a cortisone injection to deal with the immediate symptoms, in concurrence with orthotics, new shoes, or a home stretching program. For others, we might recommend laser therapy instead. Still other cases may not require either.
The only way to know for sure is to have our specialist, Dr. Trent Timson, evaluate your condition and discuss the pros and cons of each option for your specific situation.
That said, you can rest assured that we'll fully stand behind any treatment option we recommend as an effective way to eliminate your pain and get you back to living your best life!
To schedule with us at any of our convenient locations in McPherson, Herington, or Hillsboro, please dial (620) 241-3313, or reach out to us online.